---
Slide Topper for 2012 EC 995 suggestions - Curahee - 12-20-2012

I am looking for a suitable slide topper for my TC and wanted to get some opinions on good brands/models that will work.

Thanks in advance!


---
Re: Slide Topper for 2012 EC 995 suggestions - rjchristensen - 12-24-2012

I have 2 Carefree of Colorado slide awnings on my 2013 1165 Eagle Cap and so far I like them just fine.

Rick Christensen
Prineville Oregon


---
Re: Slide Topper for 2012 EC 995 suggestions - Curahee - 03-14-2013

Just ordered a SlideOut Kover III slide topper, a 9'10" Carefree Freedom Awning, and a Carefree Weekend'r awning room/tent to attach to the awning. This should be a nice outside space addition to the EC 995. We are planning a 2200 mile round trip this summer to Glacier Park and Yellowstone and will be on the road a couple of weeks...these will come in handy.
Also ditching the group 24 12v battery and adding 2 6V golfcart batteries for better reserve capacity. Hoping to add a solar panel next year.


---
Re: Slide Topper for 2012 EC 995 suggestions - rjchristensen - 04-16-2013

Was the opening of the battery compartment big enough to put in the 6 volts?
On mine the door and door frame had to come off, then the battery then reinstall the door and frame and re caulk the whole thing.
The camper is back at the factory as we speak and I mentioned to them that the 6 volt will not fit.
Dave Frampton said they put a larger door and frame and the battery will now fit.

We will see!
Rick


---
Re: Slide Topper for 2012 EC 995 suggestions - Curahee - 04-17-2013

The 6 volt batteries fit in the slide out tray, but how the dealer put them in, I'll never know.  I can't get them out for nothing and took it back to them (they also messed up the order for my awning and ordered the wrong color fabric and are replacing that too) to fix. I told them that based on my measurements, the slide out tray would have to come out and then a bracket or tie down fabricated to hold the batteries secure. I will likely have to make something for it, but the door is fine.

I assume they are still working on your slide issue? I wonder if they ever put in their new manufacturing space for factory repairs (warranty work). Dave said that they were planning that when I was there about a year ago...they knew that most dealers can't fix things like pulling front/end caps off, etc. I also told him that, aside from getting help from folks like Mony, EC owners really liked the ability to take their rigs to the factory to get fixed by the ones that should know how to fix it best.

I wonder if the Adventurer folks read all of these forum posts? It seems like excellent customer service, offering repair services, and even custom build options are things that made EC unique and got the following that it has/had. If you are going to charge this much for a good camper, then you should back it with legendary customer service...that would get them good reviews, repeat business, and great word of mouth advertising.
Of course having knowledgeable dealers would help too. Mine couldn't even tell me how to manually crank out the slide...

I really hope your camper gets the right repair and they make you whole on your purchase...seeing how you have had it in the shop almost the entire time you had it...very frustrating...


---
Re: Slide Topper for 2012 EC 995 suggestions - Curahee - 05-03-2013

Updated slide cover...now it is correctly mounted and drains away from side wall.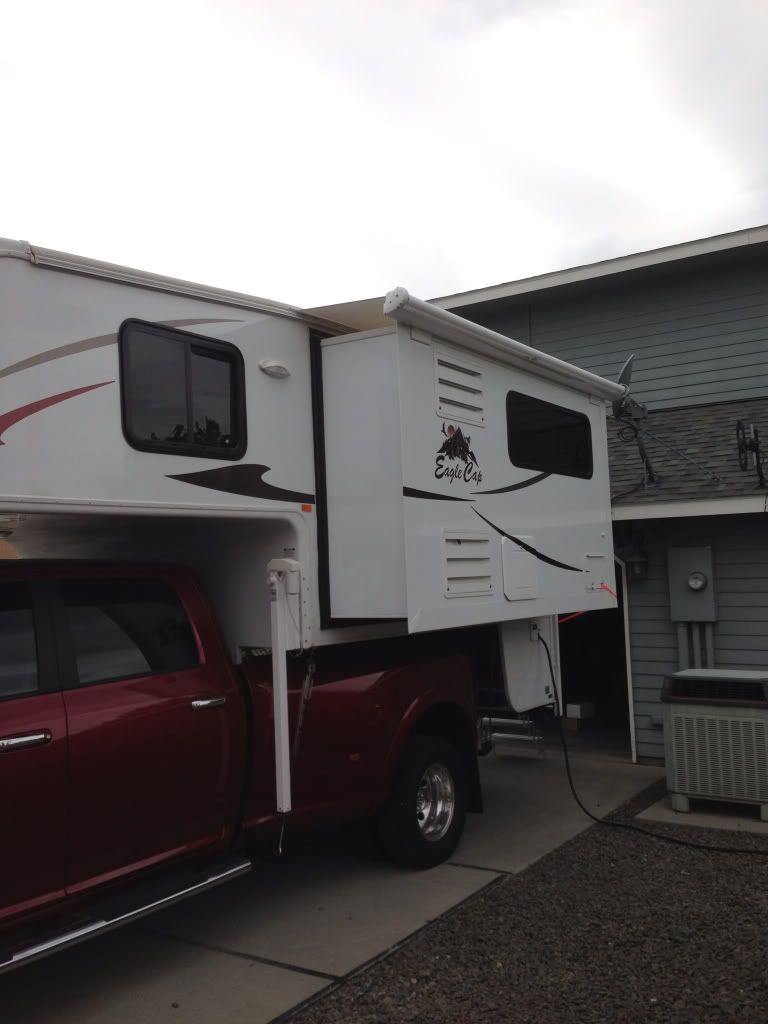 The correct colored 10' box awning - and they remounted the right side attachment/support which makes the awning come out correctly...I am done taking the TC to the dealer for work...seems like they always have to redo everything.

---